Take A Look At Our Custom Made Bathroom Vanities For Sydney Homes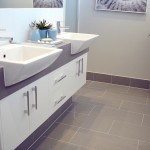 Finding perfect custom made vanities for new bathrooms can often prove to be quite a challenge if you're not after the same old thing straight out of the box. The passionate and experienced team at Custom Flat Pack Sydney can help design and create any type of vanity specifically tailored to any space and style. Not only do our designs offer an excellent, multifunctional unit for those morning preparations or evening wind downs, they also provide aesthetic pleasure to your home, working to fill out space beautifully and adding a true touch of elegance to absolutely any bathroom space.
Custom vanities to ensure the perfect bathroom
Whether you're a new home owner, an experienced tradesperson or a renovator who wants to provide your clients with an easy and affordable way to get the perfect furnishings for their home, Custom Flat Pack Sydney has the perfect bathroom solution for you. We take the time to listen to your exact requirements and work meticulously to create bathroom vanities that show off your unique personality.
Drop us a line today!
Feel free to call us on 0422 272 352 or (02) 9877 5045 or email us at sales@customflatpacksydney.com.au with designs for bathroom vanities for a free quote today. Our team are happy to discuss the many products we have created for satisfied Sydney clients whilst working with you to plan how we can achieve the very same results for your unique home.